XxInkMachineXx

Member

Posts

: 7


Points

: 5


Rep

: 0


Join date

: 2019-01-04

on Sun Feb 10, 2019 11:10 pm
My Discord Tag: XxTrueLinklingXx#5258
Your Discord ID: 509844178579095573
What were you banned from?: De Boxbot server
Why were you banned?: Spam and troll.
Why should you be unbanned?: I have learned my lesson. Read the rules. Don't troll. Don't throw a fit because you got killed by someone. And Spamming is the embodiment of evil when it comes to annoying people. Especially to admins and mods.
Any additional information: Eh nothing really. Only thing is that one of my friends got perm Banned (Trading) and I would like to return the favor. His tag is LaffyetteDaGreat#9009 but I don't know his ID.





Thank you for your time. And if you don't accept, Ill enjoy Boxbot away from the server. I won't mind
Akuma Hana

Member

Posts

: 5


Points

: 6


Rep

: 1


Join date

: 2018-10-28

on Mon Feb 11, 2019 5:47 am
Message reputation : 100% (1 vote)
Okay, so here's the deal.
I'm extremely hesitant to allow this given that you had multiple chances to read the rules over the week that all your warnings/mutes happened. The point of our punishments is to remind you of the rules, mutes especially. By removing a user's ability to type, we hope that they will read up on the rules during the time that they are muted. Clearly you didn't spare a moment to do that, because you came back just a few days later and deliberately did the same thing that got you punished before.
If you reread the server rules in the attached image(s) and state that you're aware of them, I can allow you to be unbanned with the understanding that the next rule violation is a permanent ban with no appeal based on your previous repetitive behavior.
Also, I'll need you to elaborate on what you meant at the end there by "I want to return the favor". Not sure I understand what you meant.
Thanks for understanding.
-Akuma Hana
Also my browser is being weird and not showing the images, so if they're not shown here, give me a minute to figure out how to get them on.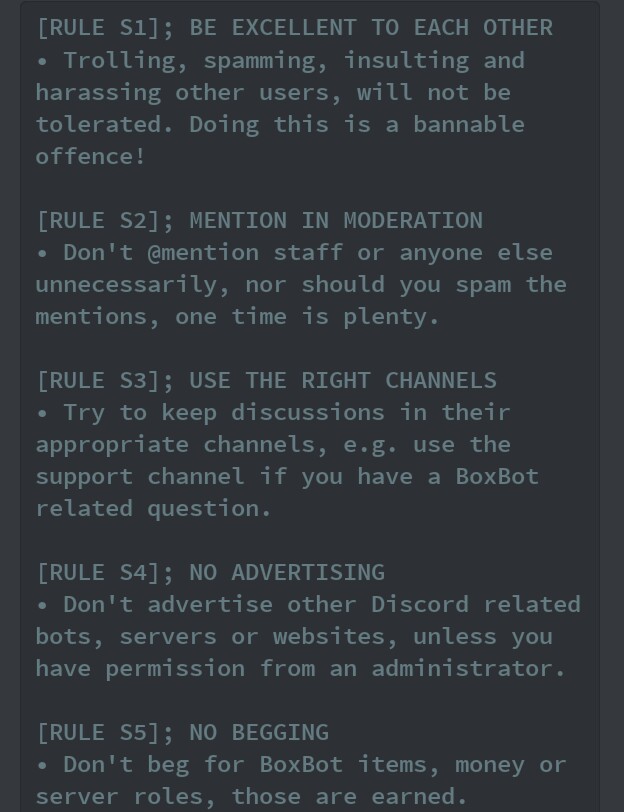 XxInkMachineXx

Member

Posts

: 7


Points

: 5


Rep

: 0


Join date

: 2019-01-04

on Mon Feb 11, 2019 9:08 pm
I have read the roles and agreed to use them in order to not be perma baneed
Bambi

Uncommon

Posts

: 71


Points

: 85


Rep

: 6


Join date

: 2018-07-10

on Tue Feb 12, 2019 7:20 pm
Akuma decided to give you a second chance, as long as you stick to your word and don't break the rules again. You are unbanned, enjoy the bot


Permissions in this forum:
You
cannot
reply to topics in this forum